How do you link ABN AMRO – iDEAL Easy to WordPress with Pronamic Pay?
In this manual you can read how to make a link between the iDEAL Easy of the ABN AMRO and your WooCommerce WordPress store.
We assume that you have already fully set up the WooCommerce webshop plugin and that other payment methods such as bank transfer and PayPal already work correctly.
Install Pronamic Pay plugin
Via the WordPress dashboard you can via Plugins » New plugin simply install and activate the Pronamic Pay plugin.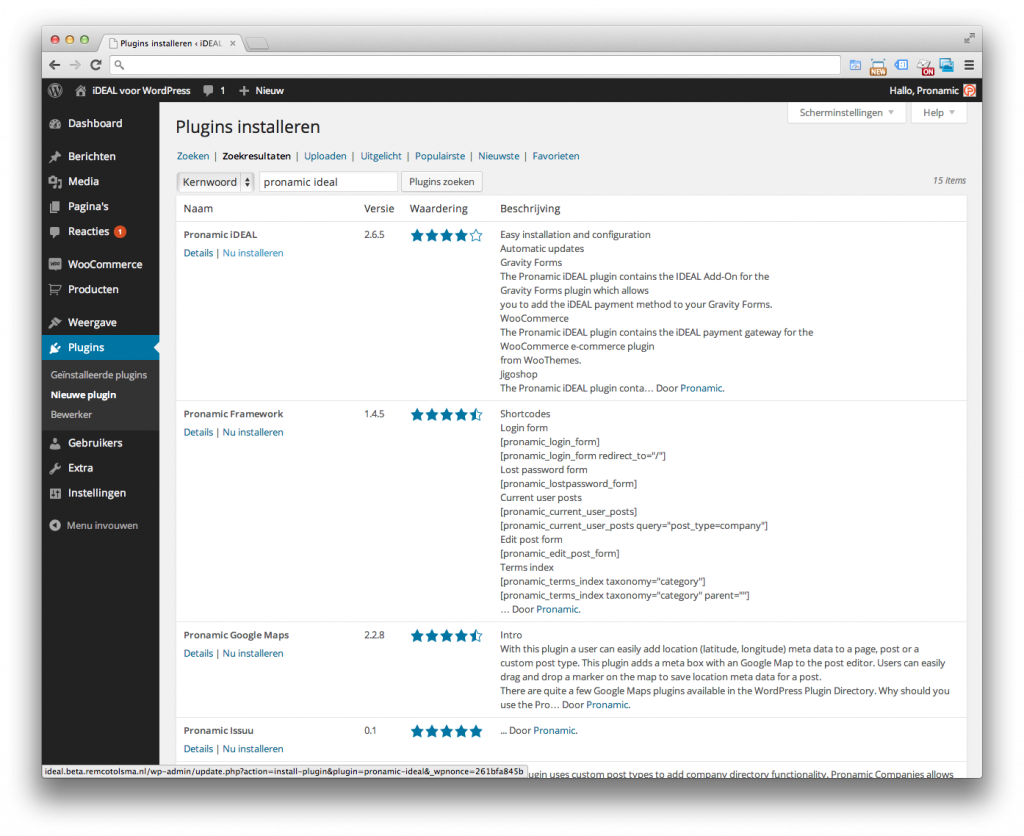 Add Pronamic Pay configuration
After the Pronamic iDEAL plugin has been activated, via Payment » Configurations a new iDEAL configuration can be added.
For the configuration of the ABN AMRO – iDEAL Easy variant, only the PSPID needs to be entered. Make sure you enter the PSPID and not a merchant ID, there can sometimes be confusion between the two.
Testing Pronamic Pay configuration
After the iDEAL configuration has been published, it can easily be tested via the framework Test, under the configuration data. After entering a test amount (for example €10) and clicking on the button Test a (test) payment will be started and you will be referred to your iDEAL provider.
In this guide we will use the ABN AMRO – iDEAL Easy test configuration data (use as PSPID TESTiDEALEASY), with which you as a user can simulate a payment status yourself:
When choosing the payment status "SUCCESS", the payment status in WordPress will also be updated to 'Success'. This can be found in the WordPress dashboard under Payment » Payments.
WooCommerce enable iDEAL payment method
As soon as the iDEAL configuration has been configured correctly, via WooCommerce » Settings » Checkout » iDEAL the WooCommerce iDEAL payment method must be enabled.
It is important here that in the field Configuration the newly created ABN Amro – iDEAL Easy configuration is selected.
Common mistakes
WooCommerce order and checkout
After the WooCommerce iDEAL payment method has been activated, a test order can be placed and settled with iDEAL.
After clicking the Place an order button, the order will already be added to the WooCommerce orders overview. The order will currently have the status 'Pending', because the iDEAL payment is still awaited.
Successful payment
Upon successful payment, the order status will automatically change to 'Pending' and an email will be sent to both customer and seller.
Payment error
An iDEAL payment can also go wrong and that can easily be simulated with the ABN AMRO – iDEAL Easy simulator.
In that case, the order will keep the status 'pending' and the customer can try again via the 'My account' page to pay for the order.