Mollie for MemberPress
Connect Mollie to MemberPress with Pronamic Pay. Pronamic Pay is the most comprehensive payment solution for WordPress.
Based on 83 reviews
Version
9.6.2
Latest update
November 9, 2023
Simple and fast configuration
Expert and fast support
Updates and support for one year.
Easily link all payment methods to MemberPress
Mollie offers a large number of payment methods, all of which can be integrated within your WordPress website. Billie, Creditcard and iDEAL are supported, among others.
With the Pronamic Pay plugin, all these payment methods become available within your WordPress website.
Mollie Gold Partner
Pronamic Pay is a technical partner of Mollie. As a Gold Partner, we have exclusive access to Mollie's latest features, and we ensure that our customers are the first to benefit from them.
Together we ensure that your company is at the forefront of the digital payment world!
Screenshots from Mollie for MemberPress
Curious how this payment solution for MemberPress works? View some screenshots of the Mollie connection.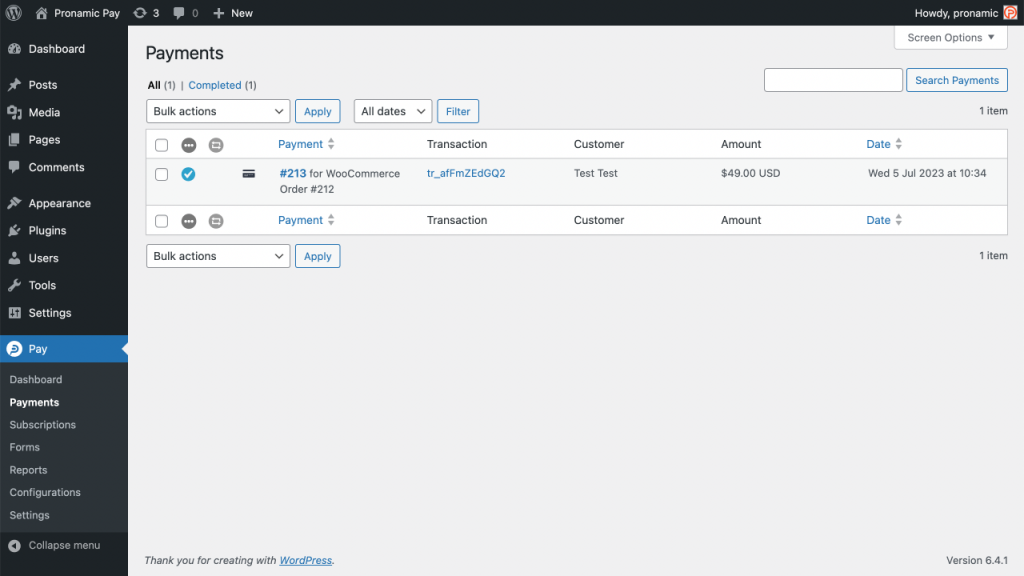 Start Today
Pronamic Pay is the #1 payment solution for WordPress. Within 5 minutes you are up and running and processing Mollie for MemberPress payments through WordPress.
Link Mollie to MemberPress
Need help connecting Mollie to MemberPress? View our manuals or read our frequently asked questions. We explain in a simple way how to connect Pronamic Pay to WordPress.
Frequently Asked Questions
What is Pronamic Pay?
With Pronamic Pay we want to make payments in WordPress easy. Pronamic Pay offers various payment solutions for WordPress, including the Mollie for MemberPress plugin.
What are the benefits of using Pronamic Pay?
With Pronamic Pay you will receive payments with MemberPress in no time. Pronamic Pay has more than 10 years of experience in developing payment solutions for WordPress.
Which payment methods does the Mollie plugin support?
We currently support more than 20 payment methods. Including iDEAL, PayPal, Visa and Bancontact.
How do I install and configure the Mollie solution for MemberPress?
After purchasing the plugin, install the plugin in the usual way. You can create a new Mollie configuration via the settings and link it to MemberPress. Need more help? Please refer to our manuals.
What our customers say
Good connection with Memberpress
Knows the ins and outs of MemberPress around payment provider Mollie in the Netherlands with regular updates.
Great product and support
I am really satisfied with the quality of the product. Pronamic also offers very high quality support.
Very good support
I reported a complex issue (with Ninja Forms) which they fixed. They kept me well informed of the progress. Thank you!
Fast support
They provide fast and accurate support.
Great plugin!
Very slick! Easy to install and the plugin is compatible with Adyen! The dashboard is great. I recommend this plugin!
Best support ever
Extensive help when I couldn't figure it out myself. The patience of the support is really special. The plugin itself is also a tour de force!
Recommended
Highly recommended for anyone who wants to process payments with the providers that this plugin works with. The support is also top notch!
Great plugin, easy to use and good support
The support was very helpful and the plugin is very solid. I recommend this plugin if you are looking for a reliable plugin.
No. 1 for WooCommerce and great support!
Pronamic's solution is the only one with excellent customer support! Truly a professional solution and great customer service!